About Us
  
 The Beavercreek Clay Courts Tennis Club (BCCTC) is a new facility with five Hard-Tru tennis courts and three hard surface pickleball courts.  The club will open May 1st and close September 30th 2020.
The BCCTC is located at 2373 LaCresta Dr, Beavercreek OH 45431 and is next door to the Greene Valley Recreation Club (GVRC) (http://www.gvrcpool.org/) which has swimming, basketball, junior facilities and a snack bar.  Please visit the GVRC web-site for information on season activities and membership fees.  All GVRC active stock holders have limited access to the BCCTC.
Our court lay-out provides cabanas between courts (both tennis and pickleball), water and plenty of space for watching matches.  Our clubhouse provides indoor seating for social gatherings.
Our club will have on-line reservation capabilities for reserving courts, lessons, leagues, clinics and social events. There are no court fees for tennis or pickleball play.  There will be fees for lessons and clinics. Tennis and Pickleball players are required to wear appropriate attire.  Guests will be allowed only three times for $5 each visit.  


---
---
Court Construction

Early work on the courts spring 2017.  Base level of crushed limestone and cement pavers around the perimeter. Also, dad hard at work.
.
      

Limestone screenings on top of the crushed limestone...smoothed to a 1/2" tolerance across the court.
        

   
One and one quarter inch of clay on top of the limestone screenings...watered and rolled.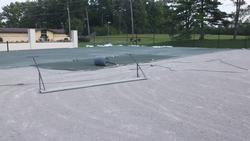 And the final portion of clay...       
---
Building Construction

After the slab was poured in 2016, the building was framed and roofed in the spring of 2017.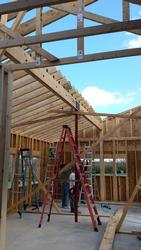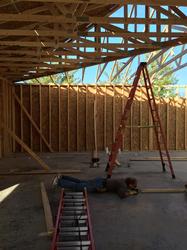 Roofed, shingled and wrapped summer of 2017. 

---
We are there!
Foundation Members
Dan Abrahamowicz                                                     Jack Ackerson                                                               Steven Barbadora                                                     Steven & Linda Berberich                                        John & Maggie Braun                                                Larry Carter                                                                Debbie Fazio                                                               Brad Hagen                                                                Lynette Jacques                                                          James Lewis                                                                Melissa & David Litteral                                            Varun Luthra                                                              John McCormick                                                        Emanuel Papp                                                            John & Cindy Polander                                             Barry Roland                                                              Matt & Katelyn Stechschulte                                   Steve Watring                                                             Jan & Jim Wineberg                                                   Daniel & Lingling Xiao      
---
Personnel
     

Steve HaydenUSPTA Teaching Professional, Ohio VP for USPTA, member of National USTA Adult Competition Committee and Local Play Net Generation Committee, Chair of National Circuit Chairs, Midwest Section Vice President, Captain Midwest Donoff Cup team (10 yrs), National tournament player, High School coach (8 yrs)
---
BCC Tennis Club co-owner, tennis player


---
---