BEAVERCREEK CLAY COURTS TENNIS CLUB
Club Announcement
- Opening just two months away!  Free tennis on May 4th & 5th, 2019, our opening weekend...look at our May calendar for events. Renew your memberships Now!
Tennis
Clay Court Tennis -- The Soft Choice
---
Tennis Leagues
- Men's: May 6th start of Mon, Thurs, Sat doubles            - Men's: May 7th start of Tues singles                               - Womens's: May 8th start of Wed, Thurs doubles           - Junior: May 19th Red Ball Challenge...FREE introduction to tennis for 6-16 yr olds info sign-up                          May 25th the start of Mon/Wed/Sat High School & Middle School League info sign-up                                            May 28th start of junior clinics, sign up on calendar view link
---
The BCC sponsored National Donoff Cup event at the USTA National Lake Nona facility, Nov 2018
Pickleball
Pickleball Drop-ins
-  May 7th start of Tuesday & Thursdays, 6pm
-  May 11th start of Saturdays, 9am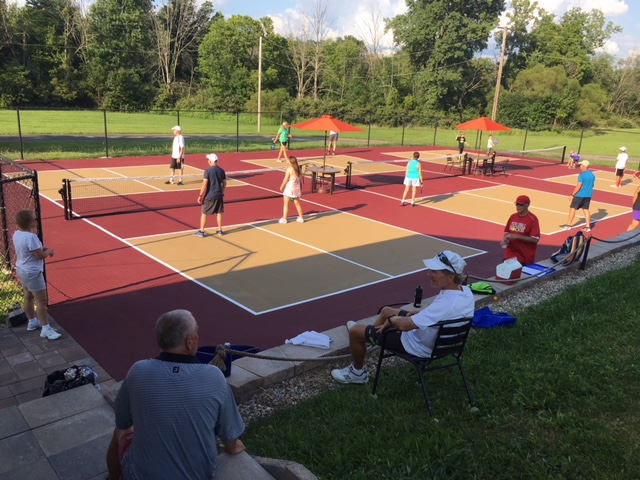 Lessons:  Group of 4 ($15 each)
                 Group of 2 ($20 each)
                 Private $35
** Contact Larry Virgilio, 937.479.1157
Club Member Privileges
   - Members can log into BCCTC website or log into the Apple app store or Google Play store to download the
     PlayTennisConnect - Club Edition app to book courts, lessons, clinics and social events
   - Members can reserve courts (as available) up to seven days in advance
   - Members can bring in a guest ($5 fee)...3 visit limit for the same guest.  Conduct of
     guests are the responsibilty of the sponsoring member.
   - Members can rent the facility on a saturday evening  (6-9pm) for private parties
      (includes agreement and deposit)
             - Tennis only - $150
             - Pickleball only     - $100
             - Tennis and Pickleball - $200
   - Private lessons are $45 per hour
   - Clinics are $10 for group of 6; $15 for group of 4, per hour
   - Club leagues
   - No court fees 
Non-Member Policies                                                                                                                                                          - Lessons and clinics will include an extra $5 fee                                                                                                               - Courts may be used for a fee of $20 per court                                                                                                                                                                                                                                                                                                        Club Member Policies (for full BCCTC policies, click here)
- Members may reserve courts up to 7 days in advance...only one court reservation per day (league play does not count as one of your reservations)
- Tennis members can have access to the Swim Club showers, bathrooms and snack bar.  To access the pool, you will enter as the guest of a Swim Club member at a $5 cost.
- Validitated GVRC Swim Club members will have access to tennis and pickleball courts as available. Swim club members can become a club member for 40% of published rates to have the ability to reserve courts, play in leagues, bring guests, access the clubhouse, web-account and PlayTennisConnect app, and pay reduced rates for clinics and lessons.
- All members are responsible for their guests
- Appropriate dress, shoes, shirts will be worn within the tennis complex
- Inappropriate dress and behavior may result in exclusion to the tennis complex and/or termination of membership. 
- Non-payment of appropriate fees will result in termination of membership
-
Lessons at BCCTC may only be provided by BCCTC authorized personnel. This includes, but is not limited to, personal trainers, Pilates instructors, tennis pros, pickleball pro's, and multisport trainers within all areas of BCCTC facilities. All teaching professionals and coaches have had a Federal background check, CPR training and go through the USTA Safe Play process for Junior USTA 'Net Generation' programs. All verified certified coaches on Net Generation have to be members in good standing with the USPTA. This ensures that coaches have current insurance coverage and are continuing their education requirements.